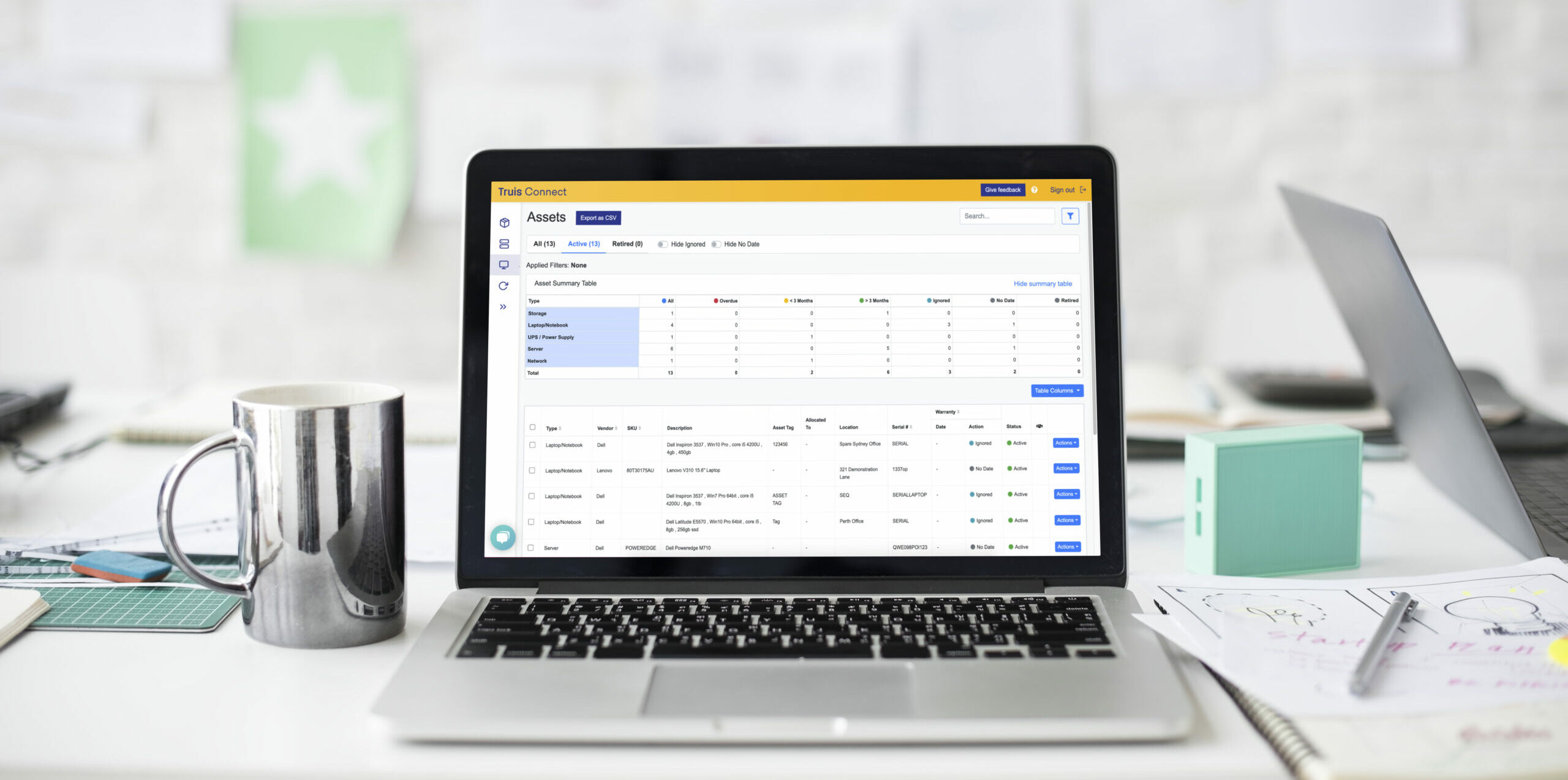 Truis Connect
A platform empowering business transparency and continuity: Truis connect is an automated system that tracks spend, renewal dates, maintenance contracts and monitors all of your IT assets, and purchases. Oh, and did we mention – our customers get it for free?
Working alongside Truis connect is our specialist IT team who continuously monitor the platform. Our inhouse support team enables another layer of reliability to ensure your asset and contract management is easy, accurate and consistent.
Features of the platform
Today's technology has always been important to businesses. But these days, IT is more integral than ever. As a result, it's also more vital, and challenging, to keep an eye on it all with an effective IT asset and contract management strategy. We know it's not easy. Which is why we created Truis connect, a tool designed specifically for your assets and renewals.
Asset management simplified
We understand the importance of asset management, and Truis Connect makes it incredibly simple. The portal allows you to easily see the details of every item you've purchased through us and, if you'd like, you can even add purchases from elsewhere.
Renewal Management
Whether at work or in our personal lives, most of us have been at the end of terrible timing. And few things annoy us more than discovering your support agreement's expired only a couple months, weeks or days before you need it most. Fortunately, Truis connect and the Truis team make it easy to keep track of maintenance, support and software licence renewals.
One touch reporting
Find all of the information you need in one place at the touch of a button. Filter your data by asset type, active or retired and export to a CSV.
Financial reporting
Gain insights into your renewals spend month by month. See where your spend is going vendor to vendor and what renewals you having coming due soon.
Asset management support team
Leverage our asset management team to help keep your data up to date and clean. They are just a call away! Get in touch today
Contact us
Free to sign up!
Our platform is free to sign up and use. We offer it complimentary with any work you do with Truis.
Speak to our team today about getting set up
Request access to Truis connect
Request access to Truis connect and our team will set you up within 24 hours