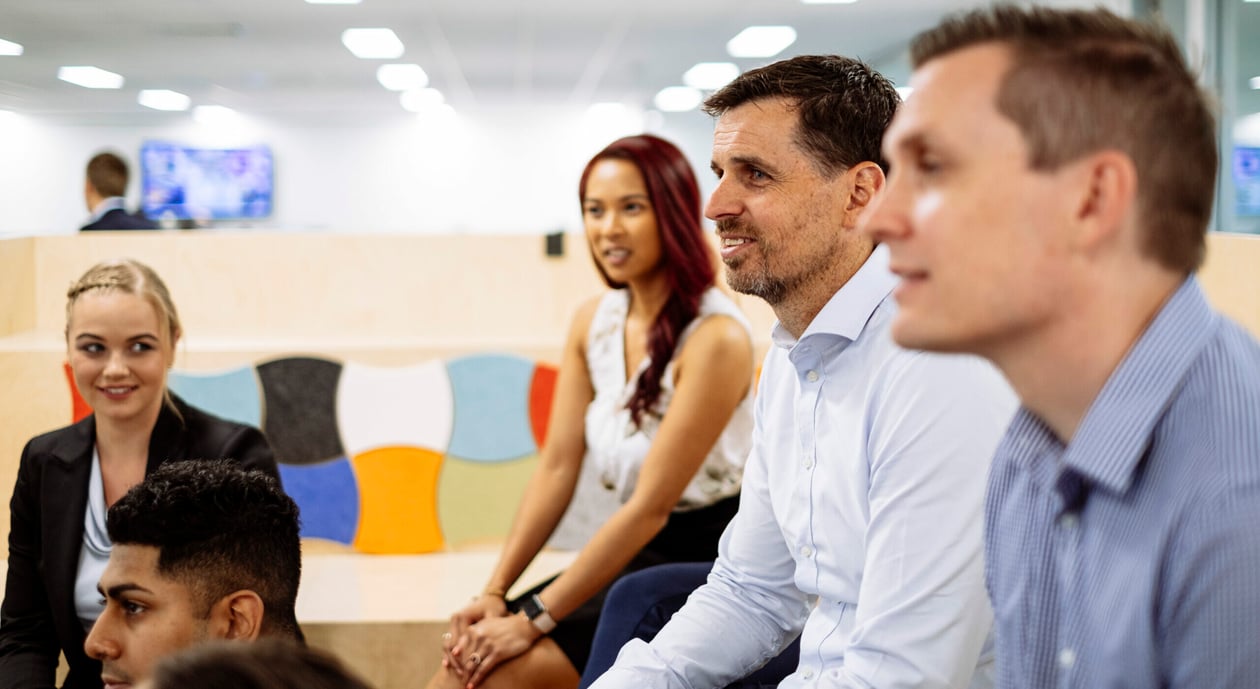 DE&I isn't a topic reserved for specific calendar-marked days.
It's not a content theme we pick up and put down depending on what suits us.
And it's not something that occurs on an ad hoc basis or even at recurring intervals.
At Truis, DE&I is a commitment we make, every day.
It's simultaneously a part of our organisational fabric and something we actively choose to pursue.
In a previous Bluestone News article, we've unpacked the differences between diversity and inclusion, but in case you need a refresher on DE&I, here's what it all means…
We all know that DE&I stands for diversity, equity, and inclusion – but let's break down what each of these pillars represents.
Diversity refers to the presence of differences, whether they are related to race, ethnicity, gender, age, orientation, physical or cognitive differences, or other factors. A diverse workplace is one that includes people with a variety of backgrounds and experiences.
Equity is about ensuring fairness in all systems and processes. It means recognising that people have different needs and providing them with the resources and support necessary to achieve similar outcomes.
For example, in a workplace, equity can mean ensuring equal pay for equal work or providing tailored professional development opportunities to help employees from underrepresented groups advance in their careers.
Inclusion means creating an environment where everyone feels valued and respected, and where people can bring their whole selves to work or to their community. It involves actively seeking out and valuing diverse perspectives and experiences, and creating opportunities for everyone to contribute and participate fully.
Engaging all three pillars, DE&I is about recognising and addressing systemic inequalities and biases to create a more diverse, equitable, and inclusive society.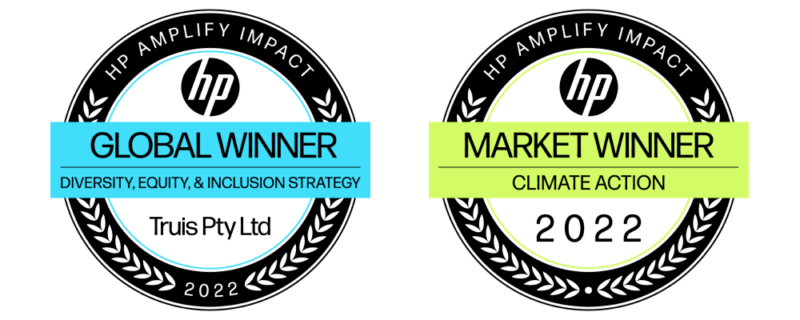 In March 2023, Truis was announced as the recipient of the global 2022 HP Amplify Impact DE&I Strategy award. We are humbled to be recognised for our commitment to DE&I. As an arena that's close to our hearts, we are dedicated to advancing, improving, and advocating for these initiatives – both internally and externally.
Here are some of the ways we put DE&I front and centre at Truis:
1. We've founded a committee to specifically focus on DE&I
DE&I is all of our responsibility. But in our experience, it helps to have a clearly identifiable group to oversee and lead all DE&I activities. Some key responsibilities of our DE&I committee are:
Creating initiatives to increase awareness and promote DE&I within our team.
Organising celebrations and recognition for various cultural and religious days of significance.
Identifying and addressing areas for improvement in policies and procedures, as relevant to DE&I.
Developing partnerships with peak DE&I organisations.
Create opportunities for further staff training and education.
While our committee leads a lot of our DE&I initiatives and activities, we're constantly communicating the importance of DE&I to the broader team. Everyone is encouraged to contribute their suggestions and ideas around how we can make Truis more diverse, inclusive, and equitable.
2. We've instituted a flexible working policy
Because we understand that every individual has diverse needs and responsibilities, we've developed a flexible working policy to help every person thrive. We believe that giving people the flexibility to choose how and when they work is a game-changer when it comes to levelling the playing field.
Flexible working can be especially helpful in encouraging caregivers, people with disability, or people who are neurodiverse to participate in the workforce.
Being upfront about our flexible work policies in the hiring process has also helped us attract and retain employees who have different needs and responsibilities – leading to a more diverse Truis team.
3. We embrace the events that matter to our people
We keep our organisation-wide calendar up to date with the events and dates that are significant to our team members. These dates of significance can mark a cultural event or a religious celebration – what matters is that these days are important to our team members.
By recognising these dates on a company scale, we create an opportunity for education, connection, and most importantly, we foster a workplace culture that feels welcoming and inclusive for all.
4. We're stronger through partnerships
We'll be the first to admit that we don't know everything. That's why we've partnered with a number of bodies who we can work alongside to make Truis a more diverse, equitable, and inclusive place for all.
We are proud to be a corporate partner of Choice Passion Life (CPL), an organisation committed to empowering people with disability and creating a more inclusive world. CPL engages our team with regular disability awareness training sessions.
We're also a proud partner of Diversity Council of Australian and the HP Amplify Impact program – two organisations who are committed to amplifying DE&I across organisations of all sizes.
5. We're constantly speaking with our team
We've made it a priority to continually understand the issues and concerns that are important to our team. We engage our broader team directly and take the time to research and understand emerging areas of concern through demographic and psychographic research and insights.
DE&I is an ongoing commitment, and as Truis evolves, how we honour this commitment will evolve too.
If this article has sparked inspiration for DE&I initiatives you can put to work in your organisation – let us know. We'd love to hear from you.